24 Jan 2022
Optical Characteristics
High Resolution and Low Distortion
Day/Night Options
C- and CS-Mount Versions
Focal Length from 2.8mm – 90mm
Both varifocal and zoom lenses are built with movable elements for adjusting the focal length. These lenses provide a flexible solution to applications that previously would have required multiple fixed focal length lenses for getting the desired field of view at a specific working distance. A lens might be specified as 2.8 -12mm or 5 – 50mm, meaning the focal length can be adjusted within these ranges. These lenses are used for many applications including inspection, machine vision, robotics, etc.
Using varifocal and zoom lenses, users can select the effective focal length within the specified range (for example 6 – 60mm). A varifocal lens will need to be refocused whenever the focal length is adjusted; the zoom lens will stay in focus when the focal length is adjusted. The varifocal is an economical and compact lens that is more cost-efficient to produce than a zoom lens.
Shanghai Optics Inc. offers a wide range of zoom and varifocal lenses. These lenses may be offered with manual or motor-controlled zoom versions. Motorized Zoom/Focusing Lens (with electromotor and controller) can be integrated into exiting systems with specific motors selected by customers that will enable basic operations of zoom, focus and iris
Lens Layout: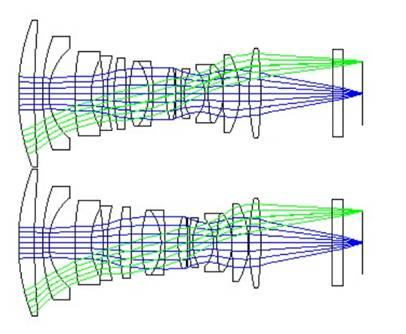 MTF Chart:

Digital Projection Zoom Lens:
| | |
| --- | --- |
| Focal Length | 19.3-22.6mm |
| Maximum aperture | F/1.7(wide)-2.2(tele) |
| Imager format | 0.63″ LCD 1280X768 |
| Zoom ratio | 1.2 |
| Field angle | 56° |
| Imager circle | 21.5mm |
| Distortion | 1.50% |
| Relative illumination | 80% |
| Projection range | 1~infinity |
| Lateral color | <0.7 pixel |
For more information, visit: https://www.shanghai-optics.com/assembly/zoom-lenses.