Thorlabs adds Volume Phase Holographic Gratings to Its catalog
Date Announced: 26 Jul 2021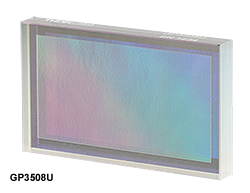 Newton, NJ, USA -- Thorlabs has announced the release of a new line of in-house-manufactured volume phase holographic (VPH) gratings to its stocked catalog offering. VPH gratings consist of a gelatin film with periodic index modulations that is sealed between two AR-coated glass substrates. The resulting VPH gratings provide high first-order diffraction efficiencies across broad bandwidths, low polarization dependence loss, extremely low scatter of stray light between diffraction order peaks, and minimal ghosting, making our catalog offering well-suited for use in spectroscopy and OCT applications.
In addition to their performance advantages in situations where signal-to-noise ratio is critical, VPH gratings are also superior to their conventional surface relief counterparts in that they can be cleaned using standard optics cleaning methods. These VPH gratings have undergone extensive environmental and thermal shock testing and have shown excellent resilience under these conditions.
While the stocked catalog offering consists of 50 mm x 30 mm x 6 mm VPH gratings with 800, 900, 1000, or 1200 lines/mm, high dispersion can be achieved to meet custom needs with ranging line densities from 400 to 1600 lines/mm, design wavelength from 300 to 2000 nm, and bandwidths of 20 to 500 nm to further serve laser pulse compression and astronomy applications. Customized round or square optics can be achieved with dimensions as small as 10 mm and as large as 60 mm.
For more information on Thorlabs' new volume phase holographic gratings, please visit the web presentation at www.thorlabs.com.
About Thorlabs: Thorlabs, a vertically integrated photonics products manufacturer, was founded in 1989 to serve the laser and electro-optics research market. As that market has spawned a multitude of technical innovations, Thorlabs has extended its core competencies in an effort to play an ever increasing role serving the Photonics Industry at the research end, as well as the industrial, life science, medical, and defense segments. The organization's highly integrated and diverse manufacturing assets include semiconductor fabrication of Fabry-Perot, DFB, and VCSEL lasers; fiber towers for drawing both silica and fluoride glass optical fibers; MBE/MOCVD epitaxial wafer growth reactors; extensive glass and metal fabrication facilities; advanced thin film deposition capabilities; and optomechanical and optoelectronic shops.
Contact
Thorlabs Inc.
56 Sparta Avenue
Newton, New Jersey 07860
United States
P: +1-973-300-3000
F: +1-973-300-3600
E-mail: sales@thorlabs.com
Web Site: www.thorlabs.com